Gain speed and profits through Application Lifecycle Management deployment
Industry software needs are constantly growing in complexity, requiring companies to implement effective solutions that make it possible for everyone involved in the development, testing, and implementation of software applications to stay abreast of the various processes.
Application Life Cycle Management (ALM) tools occupy a special place among the available solutions because they define how a software application is managed from its conception, through its creation and implementation, until its eventual retirement. It automates the software development processes, help ensure compliance is maintained and create a standardized environment.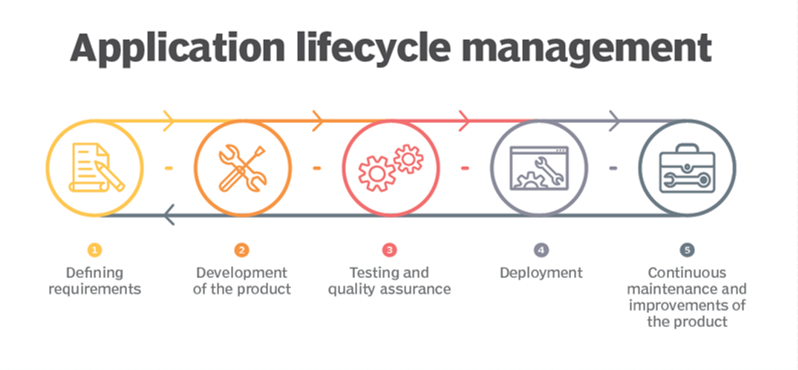 What is ALM software?
The purpose of ALM software is to create a collaborative environment in which software applications can be developed efficiently. ALM software covers requirements management, computer programming, testing, change management, continuous integration, and release management, among other things.
It reflects the fact that the application life cycle is becoming faster and more complex with the usage of agile development methodologies. Teams now need tools that help them quickly and seamlessly transform ideas into finished products and maintain traceability, visibility and stability even beyond implementation.
As such, ALM software can be said to take a broader perspective than the Software Development Life Cycle (SDLC), which involves several distinct stages and ends with deployment. Like a human life, the life cycle of an application is demarcated by significant events, and deployment is certainly not the last of them.
Key features of the ALM software
Because the term ALM is broad and encompasses many disciplines, various ALM software solutions can provide very different functionality. However, all ALM software solutions have tools for requirements management, software development, and testing, provide team collaboration and release management features, and take care of governance and maintenance.
With these and other features, ALM software solutions streamline the development process, help improve software quality and lower costs, reduce time to market, bring clarity to complex processes, and improve compliance audits, which are especially important in industries in need of a high capacity to adapt to fluctuations in demand and restrictions, as we have experienced during the strict confinement phases with the pandemic.
Gadgeon Europe, through its nearshore and offshore network, and its shared service centres strategically located across the globe, offers industries its ability to adapt, with qualified and trained talent through an agile environment and adapting to the client's requirements and work schedules.

We focus so much on attracting new customers that we often forget that by developing applications we can add value once the product is purchased or the service is contracted.
 But for this we have costs that many times we do not like to assume, we are not talking about the economic ones, but about listening! From investing in market research, investing resources in knowing more about those who are already clients, to knowing how with the development of applications we can make life easier for them next to our product or service.
 Any investment greater in application development than in knowing who it is intended for is predestined to failure. When starting to create an application, it is important to identify and pay attention to a series of stages of app development.
Only if we carry out an adequate involvement in these phases we will be able to perceive the evolution of the application, correct certain deficiencies, recognize new opportunities, etc. In other words, in order to launch a quality application, it is essential to develop the project by following a series of steps.
After the publication of the app, a control and monitoring of it must be carried out to correct and solve the different problems that may appear or updates that must be carried out. It is essential to dedicate time and effort in each of the stages of app development since in each phase a series of actions of great importance are carried out to create a successful application.
If you are thinking of creating an app for your business, Gadgeon Europe will carry out a project adapted to your needs and those of your company. In addition, you will be able to keep abreast of all the advances in the different stages in the development of your app.
Rise with Gadgeon Europe, your software product development partner.

Gadgeon is an end-to-end Application and IOT Solution development partner in the digital transformation journey of its customers. We are an ISO 9001:2015 certified electronic product design and development company. Established in 2011 with 60 plus satisfied customers across the USA, Europe, Australia, Middle East, and India. We are proud to have a track record of very low talent attrition over the years. Gadgeon delivers end-to-end solutions from product development to deployment including hardware, firmware, and applications. Our extensive experience in end-to-end IoT, IIoT, M2M technologies, network/communication technologies, application management, cloud, analytics, and automation frameworks enable our customers in building new business models and realizing value from their IoT and digital transformation journey.